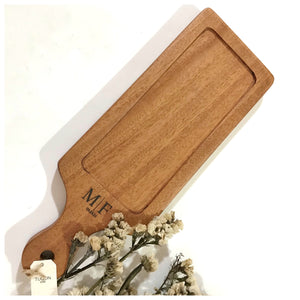 Wood: Mahogany
Size: 9x4.5in with 3in round handle

Board is coated and is not suitable to be used as cutting board.

With FREE custom design of your choice. For your preferred design, please contact us on our facebook page, Tugon 6100.
LEAD TIME: 7-10 BUSINESS DAYS.
Note: We are using 100% natural wood causing some of our items to contain unique imperfections due to its natural nature.